Surprise Boxes! Here's your step-by-step guide to giving the best gift ever!
You've probably heard about our fabulously popular Surprise Boxes, but you may not understand exactly how they work. They are so easy to send and make YOU the hero with sending the perfect gift! Here's how they work:
Step ONE! The EASY part!
Head on over the www.generalstoreofminnetonka.com and click on SURPRISE BOXES. Here you:
Choose your BOX style. Is it a BIRTHDAY Box, a Baby Box, a Holiday Box or a HAPPY Box? (hint: a Happy Box is perfect for ANY occasion—and can be customized for the specific occasion with your message)
Choose your dollar amount. Surprise Boxes are available in amounts of $50, $75, $100, $150 and $200.
Step TWO! The important part!
 In the notes, tell us a little bit about the recipient. If they are an immediate family member, best friend, or even if you don't know them well, whatever details you can share will help make it the best box ever! Some things to include, if you can:
General age of recipient
Hobbies/past times
General likes (and dislikes too! ie: she HATES the smell of lavender!
Occupation
And don't worry if you aren't sure what to write, we will still be able to curate a stellar box!
Step THREE! Just about finished!
Fill out the Gift Note section and we will include a hand-written message with your exact note. FYI, the Surprise Boxes are shipped in their own boxes, so you do not need to purchase the additional gift boxing option at checkout.
Step FOUR! You are almost there! 
Complete the order! Yay! You are finished! You will receive an email confirmation of the order as well as an email when the Surprise Box is shipped. Now you can just sit back and wait for the accolades! 
Now it's OUR TURN!  We go shopping and put together your perfect gift!
Once the Surprise Box order is submitted, we get to work curating the best assortment of gifts, picked out specifically for your recipient!
Because we have such a vast variety of gifts and goods to choose from, we are able to select the perfect items to make your box the best gift it can be. We take the notes that you give us and then shop the whole store—choosing from thousands of items. No two boxes are ever the same! And the gift combinations are endless!
 Now it's just waiting…for the DELIVERY of the BEST gift EVER!
Surprise Boxes are generally sent out within a day or two of their order date. If you would like your box to arrive on a specific date, such as the recipients birthday, just note that in the notes section and we will send the box so it arrives on the specified day.
See—how easy was that?!
Easiest shopping you have ever done!
Ideas of who and when to send a Surprise Box: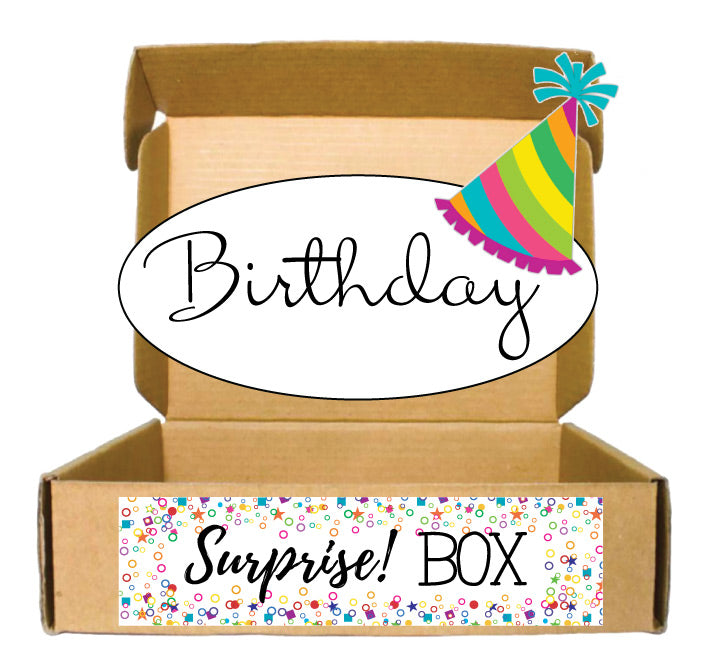 Send a Surprise Box TODAY! Click HERE